The language of ivrit ( עברית ) Genesis 38, Post #3
Welcome to my Hebrew reading & language series.
Genesis 38:15-20
Today, we see an example of a woman teaching one of the men in her family a lesson. We left off last week with Tamar heading to her father's home where she was to wait patiently for Judah's other son to grow up so that she can have children by him. That is the rule when a man marries and then dies leaving his new wife a widow with no kids.
Tamar saw that Judah's other child had grown up and she was still waiting. She heard that Judah was going to trade his animals and she went to Enaim which is en route to his destination. She sat at the roadside and played the part of a prostitute near there. When Judah came near, he made a deal with her for sex. He said he would pay her a goat and she made him leave her his staff and signet (unique to every person and identifiable like an ATM card is today) as a pledge.
When the deed was done, Judah went to get the goat that he had promised and Tamar sneaked back home to change back into her widow's clothes.
Judah sent his servant to give the goat to her but nobody in the town had ever heard of a prostitute at the entrance to Enaim, so they will now be searching for a ghost woman in order to get his things back. . .
Today's reading
English
When Judah saw her, he thought she was a prostitute, for she had covered her face. He turned to her at the roadside and said, "Come, let me come in to you," for he did not know that she was his daughter-in- law. She said, "What will you give me, that you may come in to me?" He answered, "I will send you a young goat from the flock." And she said, "If you give me a pledge, until you send it—" He said, "What pledge shall I give you?" She replied, "Your signet and your cord and your staff that is in your hand." So he gave them to her and went in to her, and she conceived by him. Then she arose and went away, and taking off her veil she put on the garments of her widowhood. When Judah sent the young goat by his friend the Adullamite to take back the pledge from the woman's hand, he did not find her.
---
Hebrew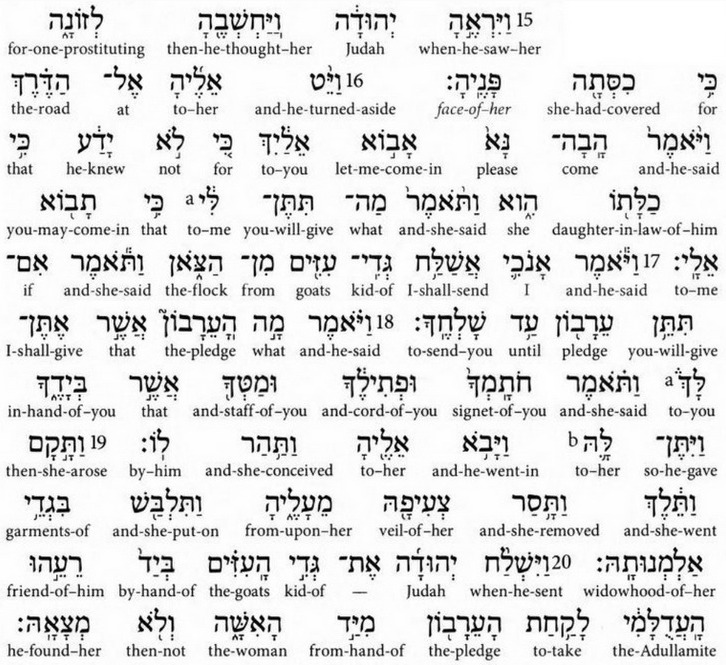 The story continues next week as Judah finds his staff...
---
Info on each letter starting at the beginning
If you are just starting, my lessons are all here starting at Alef, adding vowels (the dots and lines) as we go. I explain the meaning of each letter and its numerical value. Just go to my blog and scroll to the bottom or click here
Get your Hebrew Bible now!
Click here to obtain the book we are using. It is a free download or browser usable.
Thanks for reading.
Shabbat Shalom