The language of ivrit ( עברית ) Genesis 38, Post #5
Welcome to my Hebrew reading & language series.
Genesis 38:28-30
Today we are finishing up the thirty-eighth chapter of Genesis. We saw Judah humiliated last week when he was called out for being the one who tried to get a hooker into bed. Now we are seeing the results of his union with Tamar and her twins.
We have the experience of giving birth to her twins and the naming of them. The birth was similar to that of Jacob and Ishmael because one came out first (his hand only). Then the other one was fully born first. Perez came out first and Zerah was the one who had the marking on his hand.
Next week, we will be looking in on Joseph who was sold into slavery in chapter 37. We will start chapter 39 next week and see how he is dealing with his new situation.
Today's reading
English
And when she was in labor, one put out a hand, and the midwife took and tied a scarlet thread on his hand, saying, "This one came out first." But as he drew back his hand, behold, his brother came out. And she said, "What a breach you have made for yourself!" Therefore his name was called Perez. Afterward his brother came out with the scarlet thread on his hand, and his name was called Zerah
---
Hebrew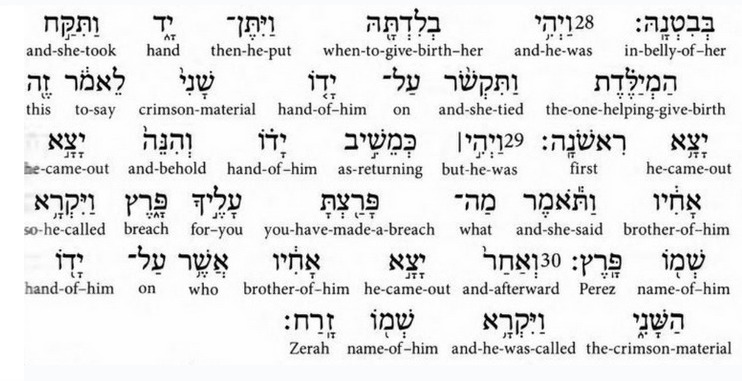 The story continues with Joseph next week...
---
Info on each letter starting at the beginning
If you are just starting, my lessons are all here starting at Alef, adding vowels (the dots and lines) as we go. I explain the meaning of each letter and its numerical value. Just go to my blog and scroll to the bottom or click here
Get your Hebrew Bible now!
Click here to obtain the book we are using. It is a free download or browser usable.
Thanks for reading.
Shabbat Shalom
Note: I did notice all of the new readers and the quantity of comments that came in last week. I appreciate hearing from you all. Thank you!