The language of ivrit ( עברית ) Genesis 40, Post #4
Welcome to my Hebrew reading & language series.
Genesis 40:16-23
Today we are finishing chapter forty as well as the dual interpretation of the Pharaoh's servant's dreams. Congratulations for following along for the first forty chapters of the Tanakh!
Last week, the cupbearer had good news from Joseph who said he would be going back to his job and be set free from jail. The chief baker then wanted his dream interpreted by Joseph. He told it saying the birds had been eating the bread from the baskets on his head. Joseph made no bones about it and told him that the three baskets were three days and Pharaoh would lift his head (from his body) and hang him.
The last bit of the chapter recounts how the interpretations both came true a few days later, on Pharaoh's birthday. But the chief cupbearer forgot about Joseph.
Today's reading
English
When the chief baker saw that the interpretation was favorable, he said to Joseph, "I also had a dream: there were three cake baskets on my head, and in the uppermost basket there were all sorts of baked food for Pharaoh, but the birds were eating it out of the basket on my head." And Joseph answered and said, "This is its interpretation: the three baskets are three days. In three days Pharaoh will lift up your head from you! And hang you on a tree. And the birds will eat the flesh from you."
On the third day, which was Pharaoh's birthday, he made a feast for all his servants and lifted up the head of the chief cupbearer and the head of the chief baker among his servants. He restored the chief cupbearer to his position, and he placed the cup in Pharaoh's hand. But he hanged the chief baker, as Joseph had interpreted to them. Yet the chief cupbearer did not remember Joseph, but forgot him.
---
Hebrew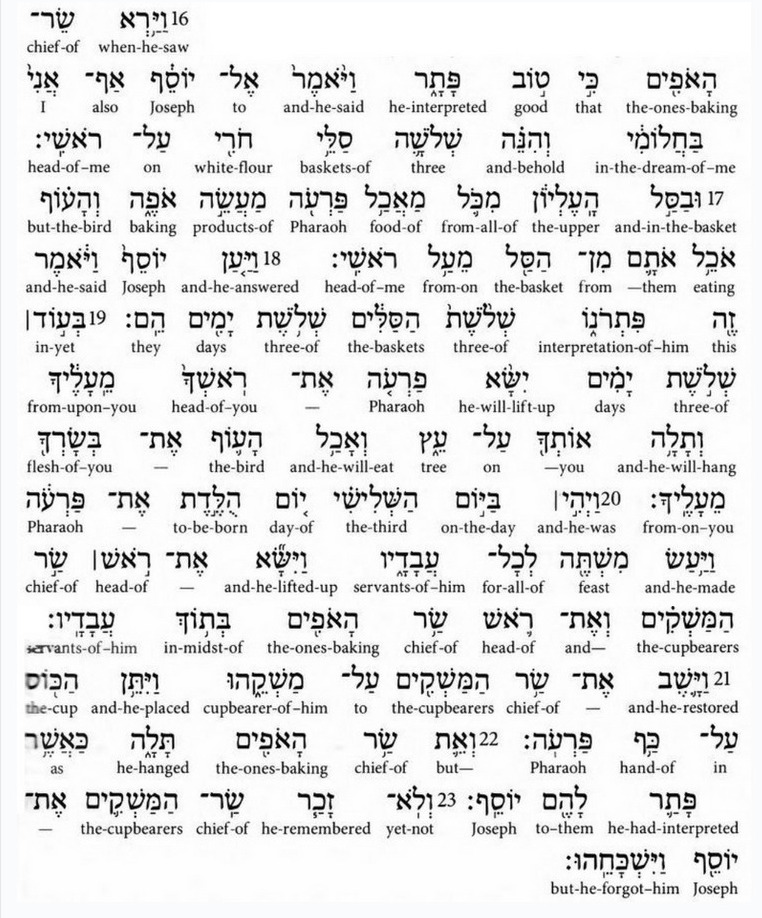 The story continues with two more years in prison...
---
Info on each letter starting at the beginning
If you are just starting, my lessons are all here starting at Alef, adding vowels (the dots and lines) as we go. I explain the meaning of each letter and its numerical value. Just go to my blog and scroll to the bottom or click here
Get your Hebrew Bible now!
Click here to obtain the book we are using. It is a free download or browser usable.
Thanks for reading.
Shabbat Shalom